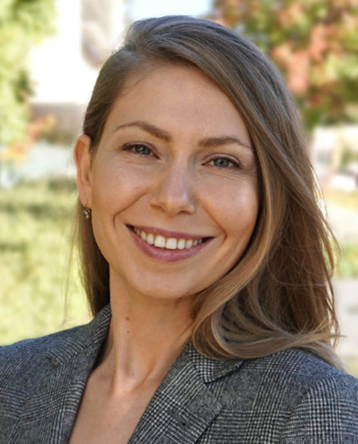 Eni Halilaj is a biomechanist who specializes in orthopaedic rehabilitation. At Carnegie Mellon, she directs the Musculoskeletal Biomechanics Lab, an interdisciplinary group of mechanical engineers, bioengineers, and computer scientists seeking to improve mobility in people with musculoskeletal injuries and diseases. Prior to joining Carnegie Mellon in Fall 2018, she was a postdoctoral fellow at the National Center of Excellence on Mobility Big Data at Stanford University. She is the recipient of the NSF CAREER Award, the American Society of Biomechanics Early Career Achievement Award, an NIH K12 Career Development Scholar, a 2020 finalist for NIH Director's New Innovator Award, and a prior NIH/BD2K Distinguished Postdoctoral Fellow.
Education
2015 Ph.D., Biomedical Engineering, Brown University
2008 BA, Engineering, Brown University
Media mentions
Mechanical Engineering
Biomechanics for teens
National Biomechanics Day is a worldwide celebration that strives to bring the complex world of biomechanics to high school students through hands-on activities, demonstrations, and Q&A sessions with real-world professionals.
Halilaj receives ASB Young Scientist Award
MechE's Eni Halilaj has won the American Society of Biomechanics Young Scientist Award. The award will be presented at this year's ASB meeting in August.
Halilaj led workshop for high school girls
MechE's Eni Halilaj partnered with the Perry Initiative and UPMC and Allegheny Health surgeons to host a hands-on workshop for 40 high school girls and teach them about the intersection of engineering and orthopaedics.